Edinburgh - Scotland's inspiring capital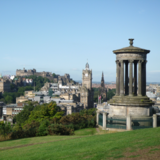 Edinburgh is one of the world's great cities, with something for everyone at all times of the year and a wealth of historical and cultural attractions, from castles and palaces to world-class galleries and museums.
Your search returned 11 results:
Please click on "View calendar" to confirm or amend dates and proceed to booking, or click on "Find out more" to read details about your selected property. If you prefer to contact us directly via email or phone, please get in touch by clicking here.
Where are the properties?